Learn why Time Lapse Videos are so well suited for documenting construction projects, along with how you can implement Time Lapse Photography into your construction project.
Over the past decade the construction industry has seen an explosion of time lapse videos as a tool for documentary and promotional purposes. As a business that known for it's time lapse production services, we ourselves have noticed the big surge in interest. So why exactly is it that time lapse videos are so popular in the construction industry right now? What is it that viewers find so visually engaging about them? Let's dive into why construction & time lapse videos are a perfect match.
Firstly, let's briefly run over what time lapse videos are for those who don't know. Time lapse videos are a string of regularly taken images, strung together into a fast moving video. It allows the audience to see things move at a pace they wouldn't normally, giving a new view to everyday occurrences. A scene that's experienced change over days, months, or even years, can be experienced by viewers in only a few seconds of playback. For more information about time lapse videos visit our 'Time Lapse Basics' blog post.
Why Construction & Time Lapse Videos are a Perfect Match
One major reason why construction & time lapse videos are a perfect match is the unique way that time lapse photography showcases construction projects. Viewers can experience the dramatic landscape changes that take place on a construction site, in just a matter of seconds, or to whatever time scale the creator specifies. This is something that traditional real time video footage just isn't able to do. Below is a brief example of the kind of visual experience that even a brief standalone time lapse can provide.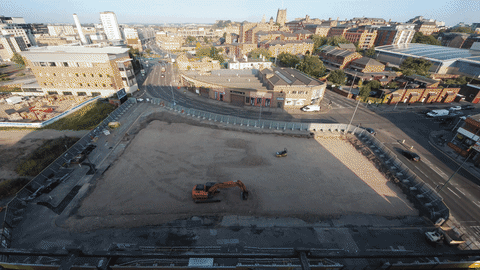 This time lapse showcases the construction of Nottingham BioCity's Discovery facility in just 6 seconds. This footage was taken from one of our durable time lapse systems, commissioned by client Willmott Dixon. If this single time lapse video was slowed down to real time, the result would be a video lasting almost two years.
a unique format for video production
We've previously mentioned that it's difficult to replicate the visual effect of time lapse with conventional video footage. However, combining the two can bring the best of both techniques. Even though the short time lapse clip above is quite the visual spectacle, you'll find that the complete production we produced for Willmott Dixon does pack a lot more substance. This is due to the video incorporating on the ground footage along with other, smaller scale time lapses.
The use of both a long term time lapse and a short term film crew allows for a balance of unique detail, and a historical summary to carry through the whole project.
This combination allows different techniques to work to their strengths. The real time video is able to showcase details that would occupy only a few frames of a time lapse, while the time lapse is used to capture project progress as whole. More visual variety for the viewer will always lead to a higher audience retention time.
Ultimately construction projects should always be considered on a case by case basis when it comes to deciding if they need our 'film crew' services. For example, we also have many clients who require very simple single angle time lapse capture services. This can be because they have a smaller budget, or simply require a standalone time lapse for visual documentary purposes. When it comes to deciding whether or not to add film crew services and implement multiple time lapses, factors such as project length and the amount of visual change taking place are what should be considered.
a practical tool for project monitoring
Time lapse photography isn't just a visually unique way to promote your project, but also a practical tool for project management and monitoring. This is because it can serve as a visual archive for clients, for live project observation and project tracking. Previously recorded images can be used to track earlier key project moments, making each stage of a construction project accounted for. This is something that construction contractors are starting to realise and it's a big reason as to why construction & time lapse videos are a perfect match.
In fact, the use of time lapse photography for project monitoring is so popular that it roughly accounts for half of our time lapse specific clients. This is a need we tailor to by providing our clients with their own 'client login', which lets them view any shot right from the day the camera was installed, as well as short videos of work to date. The incredibly high quality of our SLR cameras also allows clients to zoom in offering more detail than any standard CCTV camera could.
Our client login allows our clients to monitor their construction project as it progresses, with a wealth of viewing options.
capturing your construction project with time lapse photography
Now you know why construction & time lapse videos are a perfect match, you're probably wondering how to implement time lapse photography into your teams next construction project. Although we do have some great time lapse guides available, unfortunately for long term construction projects, there's a high chance that a do-it-yourself approach isn't going to work successfully. This is because most DIY systems are going to struggle with these key points…
Weather – This is generally the biggest and most difficult one to overcome, but also so easily overlooked. Cold and wet conditions not only play havoc with cameras (causing them to freeze up, or stop working) but also visually look horrible in the resulting video. Particularly winter sun can cause very harsh or quick changes to image exposure, adding unwanted flicker in the resulting video. We always install heaters in our housings to keep them dry, rain free and also employ custom software to reduce light level changes at the source to help make our edits look smooth.
Memory – Even with the huge memory cards of today, it's very easy to capture thousands of photos over weeks and fill up almost any consumer level storage device. Similarly, writing this number of images to a normal memory card can cause it to fail easily, causing a scenario we often see where users go to retrieve footage to find out there is none…Our cameras transmit their images remotely, so any pictures taken are securely stored. This ensures there are a no memory card limitations. We also monitor our systems on a daily basis, so any problems are noticed and can be rectified.
Power – Particularly with construction sites, even when permanent power sources are available- these can be highly unreliable due to the chaotic nature of construction sites. Often power sources are interrupted or unplugged and are turned off during nights or construction downtime. We employ battery backups and industrial style hardware that is resilient to these kind of sources. When power isn't available, we draw on our engineering knowledge to find the right solar panel, battery, or fuel cell solution to suit the job- in the cheapest and most easily maintainable way.
If you're planing on documenting your construction project using time lapse photography, we'd strongly recommend that you use a trusted and reliable time lapse system provider such as ourselves, to avoid the above issues. We have over a decade of experience when it comes to installing industry leading time lapse systems on construction sites. So if you're looking for an experienced and reliable time lapse provider, we should be your first choice!